Ref# FSPC17439
Passenger Rail Cars For Sale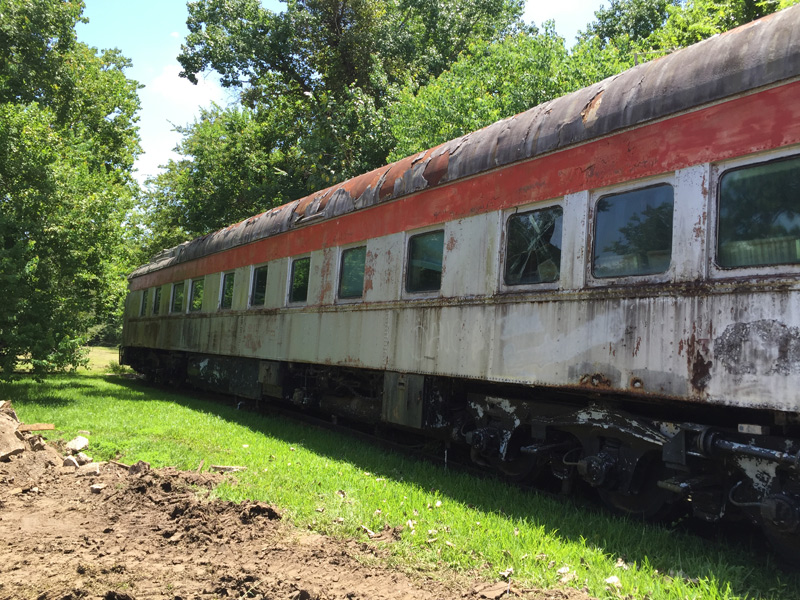 Southern Pacific Business Car "Alamo"
Built in 1926 by the Pullman Company for the Galveston, Harrisburg & San Antonio Railway as #999. In 1927 the GH&SA was leased to the Texas & New Orleans Railroad and the T&NO was merged into the Southern Pacific System in 1934. The SP retired the car in the 1980's and sold it into private ownership, the car was moved to private property.
Overall the car is very original and complete, it does need exterior paint and some steel work. Some of the mechanical details include: Fair body & roof, cast trucks, decelostats, UC valves, good to thick wheels, E couplers, Waukesha air conditioning (commercial unit on ground next to car), wired for commercial power, hot water heat, D/C electrical system (wired to commercial power).
The interior layout consists of an observation lounge, secretary room (upper & lower section style berths), general toilet (with shower), a single bedroom (lower stationary bed), a compartment (upper & lower section style berths) and a master room with a lower s tationary bed (master & compartment have a connecting toilet), dining room, crew room and pantry/kitchen.
For more information contact Mario Braughton at Mario@braughtonbuilders.com or 713-553-4183






For more information about this listing
Please call 512-263-1953

Ask to speak with a Sales Representative
or email info@sterlingrail.com