Ref# FSRE13453
Railroad Equipment For Sale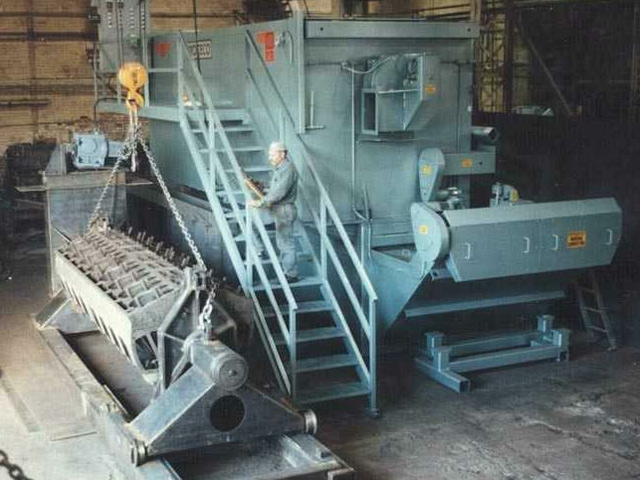 Used Proceco Block Washer with 3 Rotators
Features:
High Impact Power Spray:
Ensures bogies and crankcases are clean and free of all oil, grease and road dirt before inspection and repair. Cleans bogies prior to disassembly, as well as bogie components such as frames and wheelsets. The excellent dual purpose washer also cleans diesel engine crankcases using a rotating fixture and other engine components
Two-step aqueous cleaning process:
A hot recirculating high pressure spray wash for between 45 to 60 minutes is followed by a hot fresh water rinse for 3 minutes. Wash solution contains only2 to 5% alkaline detergent. That means reduced chemical costs and a safer, healthier work environment. If required, a rust inhibitor can be added to the rinse.
Easy installation:
Machine can be installed directly on the shot floor or in a pit. Single point connections include electrical, steam or gas, cold water, drain and vapor exhaust.
Simple maintenance:
Weekly cleaning of filter screens, monthly greasing of pump and exhaust blower bearings and annual lubrication of roller chain drives and oil change in drive gearboxes
Load Dimensions:
21ft Long
10ft Wide
6ft High
60,000lb capacity
Production rate of 6 to 8 Bogies per 8 hour shift
Price: $225,000
Location: Midwest






For more information about this listing
Please call 512-263-1953

Ask to speak with Garrett Crouch
or email gcrouch@sterlingrail.com