Ref# FSL20919
Locomotives For Sale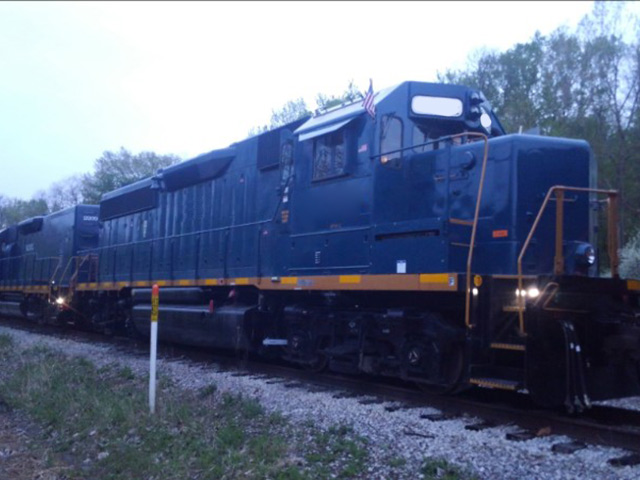 GP40-2 Mother/Road Mate Combo
Powered by a recently rebuilt 16-645-E3B engine producing 3000 super-turbocharged horses spread over eight axles
Two control cabs, fully equipped and super clean are ready to go to work today
This pair is considered a direct replacement for any pair of GP9, GP30, GP35, GP38, GP40, SW & MP series
Operating only one diesel engine the savings of fuel, oil and other wear and tear items is reduced by over 50%!
These units are in exemplary condition and considering ever increasing expense of fuel, oil and consumables savings is immediate and measurable.
GP40-2:
Industry Standard Dash-2 Controls with Self-Loading Capability
Automatic Start/Stop, ERM Equipped
Full cab heating (4 heaters)
Forward Facing DVR Camera
Configured/Setup for I-ETMS (load your modules and commission) Ergonomic Seats
Road Mate:
Ultra-Quiet Cab
Super-Easy to Mate with mother
Full cab heating (4 heaters)
Cab Fans
Shared Benefits
Quantum Speedometer, Alertness and Event Recorder with over-speed
Air Flow Meter, Large Analog Gauges with Salem Test Ports
Extended Range Dynamic Brake, Flange Lubricators
Oversized Sandboxes with sand on all trucks (inboard/outboard)
Chemical Toilets, Sink, Refrigerator
Wiring Harness for Clean Cab Radio & Telemetry
Seller offers a complete turn-key solution. This includes resources for all things mechanical, service and troubleshooting related. In addition, seller offers shipping, on-site service startup/integration as well as all paperwork to properly service, maintain and operate the equipment. The majority of which is available 24-7 via our cloud service directly your field personnel.
Call for Pricing
Location: OH






For more information about this listing
Please call 512-263-1953

Ask to speak with Garrett Crouch
or email gcrouch@sterlingrail.com