Ref# FSPL20428
Passenger Locomotive For Sale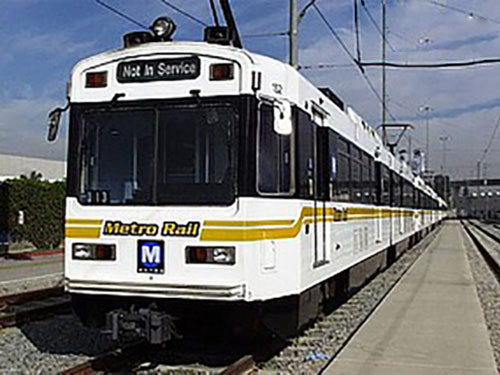 (4) Nippon Sharyo P865's Electric Passenger Locomotives
The Nippon Sharyo P865 is an articulated light rail vehicle used on the Los Angeles County Metro Rail system. It was manufactured by Nippon Sharyo and is used on Metro's Blue and Expo Lines . The original 54 trains were ordered at a cost of $1.17 million each. The P865 model is planned to be retired by August 2018
The trains feature automatic train control, air conditioning, emergency intercoms, wheelchair spaces and emergency braking.
Type of train: Articulated Light Rail Vehicle
Year Manufactured: 1990
Original Purchaser and Operator: Los Angeles County Metropolitan Transit Authority
This is perfect if you are building your own light rail system as the replacement cost for LA County Metro's new cars is $5,000,000+ (the Kinki Sharyo rail cars)
Original Purchase Price (in 1990): $1,130,000 per railcar Los Angeles County Rail Lines served: Blue Line, Green Line and Expo Lines
The new Kinki Sharyo P3010 (replacement light rail vehicles to the Nippon Sharyo P865) cost $10.1M each (64 P3010's were ordered by the LA MTA for a cost of $647,000,000)
Replacement Cost (in 2018):
Fomation: Single Unit
Fleet Numbers: 101-168
Capacity: 180 (76 seats)
Car Body: Low Alloy
Buyer pays for freight
Seller can help arrange transport
The (4) rail cars are fully functional and were recently running as late as last month
The Rail Car numbers are: 112, 117, 137 and 140. Price: $150,000 for all 4 units!
Location: CA






For more information about this listing
Please call 512-263-1953

Ask to speak with Garrett Crouch
or email gcrouch@sterlingrail.com