Ref# FSHRE17200
Hi-Rail Equipment For Sale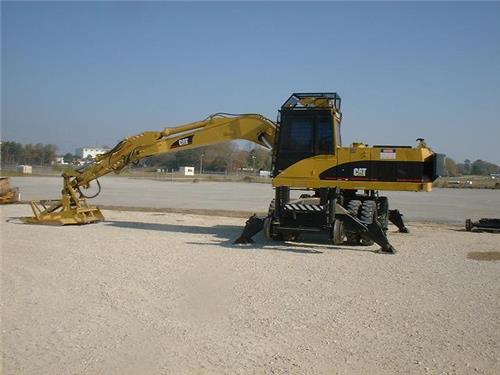 Hi-Rail CAT Railroad Rubber Tire Excavator
Good Maintenance History
1990's Cat 214B Fast Travel)
Weight: Approx. 46000lbs (6000lb counter weight can be removed)
HP: Approx. 140 hp
4x4
Pilot Controls
4 Out Riggers
15000lbs Lifting Capacity
Approx. 30 ft reach at ground level
Shop built hi-rail gear, rated at 100,000lbs (axles and bearings from a trackmobile)
Awesome working, heavy duty gear!
New roof mount A/C unit
Nice cab and interior
All tinted lexan glass with complete forestry covers
ALL NEW Hydraulic Cylinders and ALL pumps (over a 20k investment, with less than 100 hours on them)
TONS of Hydraulic lines replaced
New Starter
New Alternator
New A/C Compressor
New Rubber Flooring
New Seat and Armrest
New Headliner
New Decals and etc.
TONS of new parts, too many to list!
Cranks, runs and works, but has severe hydraulic fluid leak down around the transmission area. In which makes fluid level and psi. low, in turn which effects the performance of overall machine
Worked perfect all over until this problem started
This will be fixed before delivered!
Near New Dual Tires on ALL wheels, low hours on them
Cutter head has been removed and does not come with unit, also the large 2in. lines which ran down the boom to run cutter have been removed, but all of the aux. hyd. circuit is still on the unit and was operating perfect when parked
No buckets included (we never had any)
We do have two different mounting attachments/brackets that goes with it, that has the main boom pin holes, pins and etc. to use for mounting about anything you can think of to machine.
Photos are a year or two old, no damage or fading has occurred.
Call for Pricing
Location: LA






For more information about this listing
Please call 512-263-1953

Ask to speak with Garrett Crouch
or email gcrouch@sterlingrail.com